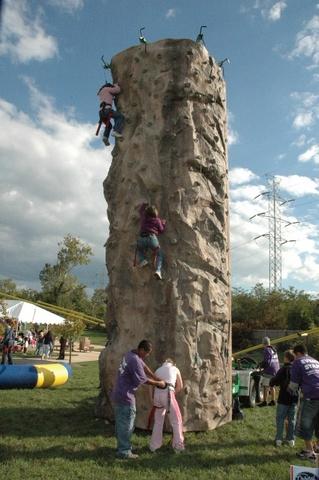 24 ft Four Person Rock Wall
King of The Mountain!
Rock Climbing has become very popular over the years and is one of our most popular attractions! Our 24 ft tall mobile rock walls can be brought to your event and set up in 30 minutes. Our professional operators make sure that fun is had by all! There are four different levels of difficulty on this impressive mountain. All climbers of any age will be challenged to be the fastest climber to the top and to ring the siren to let everyone know who is King of The Mountain! One of the most impressive sights is our Euro Bungee paired with one of our Rockwalls. What a great way to make a big impact with just one or two attractions ! Our Chattanooga and Nashville customers love the fact that it is a quick and easy setup. Our Huntsville and Northwest Georgia customers love the fact that this is the safest unit on the market with AUTOMATIC safety systems built in!
Easy setup

Challenge for any player

Four person climb means short or no line

State of the art automatic belay gently lets climbers down slowly and safely!

This unit is a 2 hour rental. Additional hours are $150 per hour