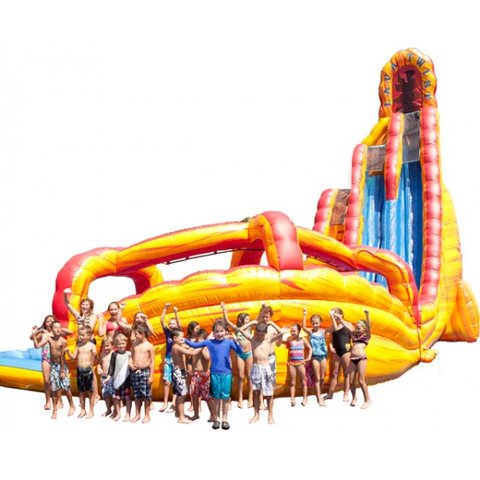 HeatWave
Gonna Be A Scorcher!
Make your way up the steps to the top of

HeatWave

. Here you will find a few options....Do you take the slightly shorter inside slide lane or are you brave enough to keep going up to the tallest outside slide lane? Once you are ready to take the plunge, the view from the top is breath taking. Your heart is racing and your mouth is dry, as you get closer to the edge anticipating your adventure to the pool waiting at the bottom. The angle of

HeatWave

is super steep, making for a high energy experience. As you quickly approach the attached inflatable slip n slide prepare yourself,

HeatWave

is unique as the slip n side is not only curved, there is also a banked hill in the middle of the curve!!! Are you ready? Feet first, arms folded across your chest, legs straight and feet crossed...Now you are ready for the ride on the wildside?. Ready, Set, GO!!